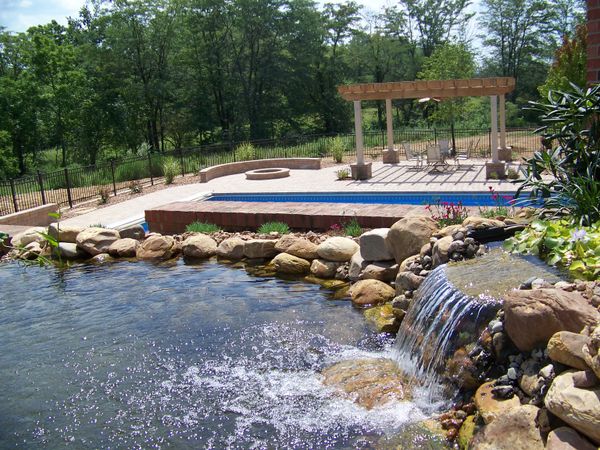 Whatever your landscaping needs, Buckley's Prairie Landscaping in Springfield Illinois can help! Our professional staff provides complete landscaping services to commercial or residential properties. From your initial consultation to the completion of each design, we have the working knowledge that you can trust and the years of experience that you can rely on.
Our services include:
Landscape Maintenance: Our landscape maintenance professionals will keep your property in optimum condition. Regular maintenance of your lawn and garden will help to increase the value of your property.
We offer both "per time" service contracts that are billed monthly for each service performed
or "all inclusive" service contracts that are billed at a flat monthly rate for the time period of service.
Please contact us for a free estimate at our contact page or call 217-787-5033
          Fertilizer and weed control programs for turf 
          Mowing / aeration / pruning / spring and fall clean ups  and much more
          Annual planting/ mulching / slit seeding / deep root feeding
          Insect and disease control for turf and ornamentals
 
Landscaping Design / Build: Design details are important to us, starting with the general composition of the garden right down to the exact detail and location of plants and material selections. The natural beauty of your property and your personal style are always showcased in our designs.
OUTDOOR LIVING SPACES ARE OUR SPECIALTY- creating a natural and useful oasis for your home
can involve many elements- we will educate you on your options of materials and together we can formulate your dream of a home away from home.
 
Laying Sod/Seeding lawns: Seeding is an inexpensive way to establish a new lawn. Hydroseeding provides excellent germination time and quickly establishes a thick lawn when properly watered and cared for.
 Sod will produce an instant lawn that may be used within 2-3 weeks. We take extra care when finish grading
your property prior to seeding or sodding to maximize water flow away from your house and provide a nice smooth lawn
 
Planting shrubbery, trees, and flower beds: Buckley's Prairie Landscaping can create unique and attractive annual and perennial planting beds with species that are appropriate for our climate and region.
 
Install interlocking brick or paver stones: This attractive surfacing option for driveways, walkways and patios will enhance your curb appeal by adding colour and texture. Pavers are made up of either clay or concrete, which allow for a wide variety of shapes, sizes, prints and colours. Pavers are not only easy in terms of maintenance, but they can also add great value to your property. Remember pavers do not crack -  with concrete, it is not a matter of if it will crack but when. Contact us about installing paver on your property today. Flagstone is is also a popular landscaping material  adding a more natural or rugged look. They are used for surfacing walkways, patios, constructing water features or stairs. Each stone has a unique shape and texture, and clients can choose wide, narrow sanded or grouted joints.
 
Irrigation:  Everyone loves a beautiful lush green lawn.  Our team of seasoned professionals can install and service a customized irrigation system that will help reduce plant loss and stress, lower your utility bills, and enhance the performance of fertilizer and weed control products.  Please keep in mind that quality is key.  Proper sprinkler head placement and pipe layout is very important to the longevity of an irrigation system to operate properly in the changing weather conditions  For those of you who already have an irrigation system in place, we provide Spring start-up / Winterizations and repair service. We can also add on to your existing system
 
Water features / ponds: Buckley's Prairie Landscaping would like to integrate your interests and desires with the beautiful accompaniments of nature. Whether it's waterfalls or fountains, colorful fish and water lilies, a pond or a stream, we can help you create a little bit of paradise in your own backyard.
 
Outdoor lighting: Outdoor lighting will add a new dimension to your landscape. Allowing you to enjoy your property with a special ambiance.  Provide security and enhance your property value with landscape lighting. 
 
Snow Plowing and Removal: We offer full service snow removal contracts and on call service. Some of our winter services include:  snow plowing and snow blowing- salting, and removing and hauling away excessive snow build up on your property. We apply the same attention to detail that has made us a leader in the landscaping industry to our snow plowing and ice removal services. 
Call us today at 217-787-5033 to arrange a free estimate.
Buckleys Prairie Landscaping
3735 Chatham Rd
Springfield
,
Illinois
,
62704
United States
217-787-5033